Croatians Around Europe The World
SOCCER
The 2013 U-20 World Cup kicked off for Croatia on Sunday as they beat Uruguay 1-0 in Turkey. Croatia is without arguably their four best eligible players, Josip Radošević, Mateo Kovačić, Alan Halilović, and Tin Jedvaj, and are led by Atalanta forward Marko Livaja. Livaja, who picked up a yellow card inside the first 15 seconds of the match, hit the post on a penalty in the 23rd minute. RNK Split forward Ante Rebić scored the match's only goal, after Marko Livaja's attempted pass deflected into his path and he dribbled away from goal before slotting it past Uruguayan goalie Guillermo De Amores. Croatia's next match is Wednesday against Uzbekistan, who beat New Zealand 3-0 in their first match. A win or draw should be enough to clinch a berth in the knockout stage. 
 Croatia-Uruguay Highlights
Dinamo Zagreb's Tin Jedvaj is reportedly being sought after by Roma and Arsenal. Dinamo has received offers for the 17 year old defender which are believed to be between 5-7 million pounds; money they are unlikely to turn down.. Jedvaj made 13 appearances in his first season at the senior level for Dinamo last year. 
Turkish media reports that Slaven Bilić is one of two managers being looked at for the opening at perennial power Besiktas. They hope to make a decision in the coming week or two. Besiktas finished 3rd in the Super Lig last season and will play in Europa League in 2013/14.
Zenit St. Petersburg are rumored to have put in an 8.5 million pound bid for Vedran Ćorluka, but Vedran's agent has stated that he is happy with his current club, Lokomotiv Moscow.
TENNIS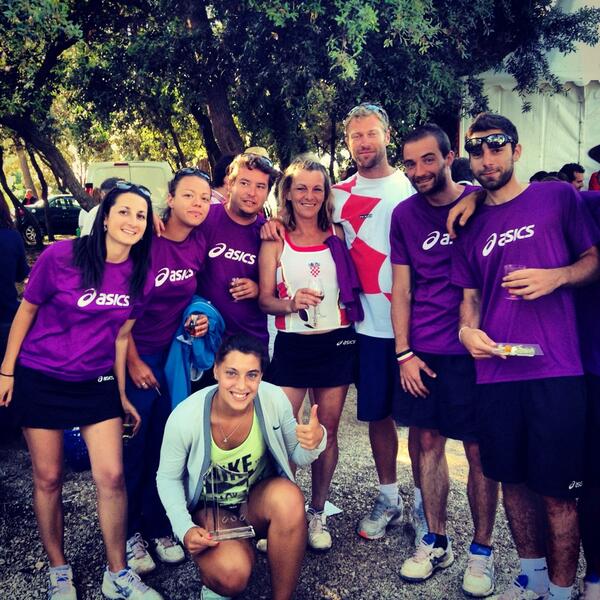 Ana Konjuh won her first professional level tournament on Sunday, winning the ITF $25,000 Montpellier. Ana managed to come from down 4-6, 0-4 in the quarterfinals, to take the championship. The 15 year old from Dubrovnik defeated Irina Kromacheva, #162, in the final 6-3, 6-1. The tournament win moves her up over 200 places in the WTA Rankings, into the top 400. Konjuh has moved up in the rankings at about the same rate as 17 year old Donna Vekić two years earlier. Ana will play in the junior tournament at Wimbledon. 
Ivan Dodig made a nice run in his final pre-Wimbledon tournament, advancing to the semifinals of the AEGON International in Eastbourne, England. Ivan took down top seed and #15 in the world Milos Raonic in the second round and #30 Fabio Fognini in the quarterfinals before falling to Feliciano Lopez in the semis. The match was back and forth in the first set, but after Lopez took the tiebreak, Dodig was broken and Lopez cruised to a 6-0 second set. Dodig will come into Wimbledon full of confidence, and will need it with a tough first round draw. 
Dodig-Raonic Highlights 
Wimbledon qualifiers took place earlier in the week, with Antonio Veić, Ana Vrjlić, Teresa Mrdeza, and Nikola Mektić losing in straight sets in the first round. #145 Ajla Tomljanović won the required three matches over top 200 opponents to enter the main draw. 
The Wimbledon main draw is out and play begins Monday, as Croatia will be represented by two men, four women, and four doubles pairings, as well as juniors. Marin Čilić has a tough first round match against tour veteran Marcos Baghdatis (#40), while Ivan Dodig will need to upset the #16 seed Philipp Kohlschreiber in order to advance. The Croatian women all have much easier draws than they did at the French Open, where they went 0-3. Monday will see five Croats in action, as Marin Čilić, Donna Vekić, Ajla Tomljanović, and Mirjana Lučić-Baroni all play their first round singles matches and Ivan Dodig partners up with Brazilian Marcelo Melo in doubles. 
 Cilic Pre-Wimbledon Interview
BASKETBALL
Croatia failed to advance out of the main round at Eurobasket Women 2013 after winning only one of three in the preliminary round, and going winless in the second/main round. They followed up their victory in the first game over Lithuania with losses to Belarus, Czech Republic, France, Serbia, and Great Britain. As a result of their failure to advance to the quarterfinals, they will not play in next year's FIBA Women's World Championships. Ana Lelas led the team with 12.8 points and 7.3 rebounds per game. 
 Highlights from Croatia's Final Game
TRACK & FIELD
After missing nearly two years due to an Achilles injury and complications with her recovery, Blanka Vlašić has made her return this summer, with her sights set on August's World Championships in Moscow. Prior to her injury, Blanka had come within 1 centimeter of the world record, with a jump of 2.08 meters, or 6 feet and ten inches. After jumping 1.94m, 1,95m, and 1.85 in her first three major competitions this summer, she showed signs of her old self on Friday in Germany, jumping 2.00m (6 feet, 7 inches) for the first time since 2011. She was overcome by emotion and reduced to tears after the jump, which was the third highest in the world this year, and puts her in great position to medal in Moscow. She next competes on the Diamond League circuit in Paris.
 Season Best for Blanka Vlašić
The European Team Championships were held this weekend, with Croatia competing in the Second league (The third  best, behind the Super League and First League). The Championships has a unique format which combines men and women, allows each country one competitor in each event, and awards 8 points for 1st, 7 for 2nd, and so on until 1 point for 8th place. The top two teams from the Second League are promoted.                                                                                                                                                                   
After the first day, Croatia sat in 2nd, but fell two spots on day two and finished in 4th. There were three victories for Team Croatia to celebrate: world leader Sandra Perković in the discus, rising star Ana Šimić in the high jump, and Valentina Mužarić in the shot put. Croatia's lack of depth was ultimately their downfall, especially in the distance events, where my high school teammates could have fared better. In the ten distance events, Croatians finished in the top half twice, and the last two places five times.
The athletics portion of the 2013 Mediterranean Games will take place from Wednesday to Saturday, and Croatia has five athletes competing, including Sandra Perković and Ana Šimić. 
MEDITERRANEAN GAMES
The 2013 Mediterranean Games, hosted by Turkey, began on June 20th, with 24 nations competing. The games are 11 days long and include 27 sports. Among those are the non-Olympic gems of water-ski slalom and bocce ball, which has singles, doubles, a progressive throw, and a precision throw.  Croatia will look to best its medal total from 2009, where they finished 9th out of 20 countries, with five golds and 28 total medals.
There are 102 Croats competing this year, including a women's volleyball team, water polo team largely "b" teams for mens and womens handball. Croatia's flag bearer at the opening ceremonies was Giovanni Cernogoraz, 2012 Olympic gold medalist in the men's trap. 
Gold Medalist Marijana Miskovic in the Women's 63 kg Judo
Through three days, Croatia has seven medals, including two golds. Sanja Jovanović was victorious in the women's 50m backstroke, and Marijana Mišković won her division in Judo. Other medalists are Dominik Etlinger, and Neven and Nenad Žugaj in wrestling, Marcela Milošević in rowing, and Tomislav Marijanović in judo.
Croatia's women handball team is off to a 2-0 start, with the men starting on Monday, and the women's volleyball team won their first match over France, 3 sets to 2.
Croatia's men's water polo team are looking to continue their successes from the London Olympic where they won gold, this week in Turkey. They have never won gold at the Mediterranean Games, and finished a disappointing fourth in 2009. In the preliminary round, Croatia went 3-0, with a good 8-7 win over Spain, a 17-4 win over the host nation, and a 7-5 win over Italy to advance to the gold medal match where they will face Spain once again. Sandro Sukno is the team's goal scoring leader, with six goals. In their past three encounters over the last year, Croatia has won every game by one goal. The two sides will play for gold on Tuesday.