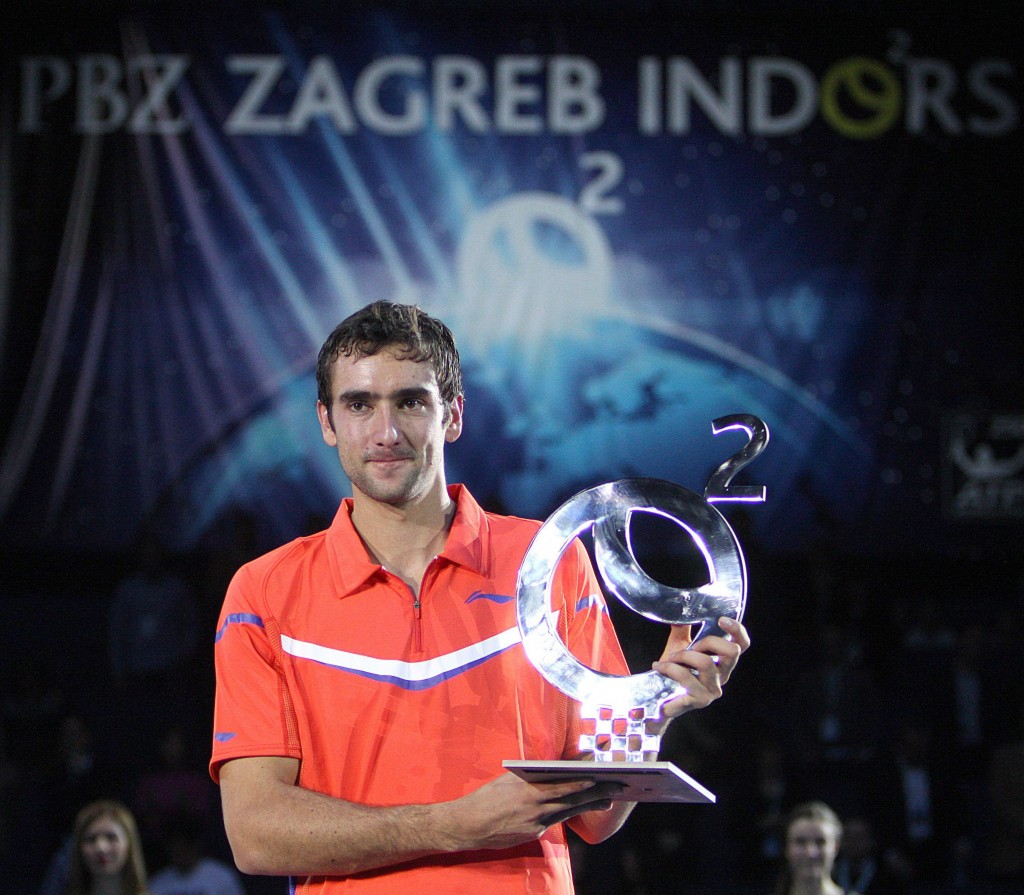 Marin Čilić won the Zagreb Indoors tournament on Sunday for the third time in his career, improving his record to 17-4 in the tournament. He made quick work of #29 Jurgen Melzer, winning 6-3, 6-1, in just over an hour. Čilić was dominant on his serve, never letting Melzer get to break point. The win gives Marin 250 ATP points and he may move up from #12 when the new rankings come out tomorrow. He was thrilled with the result and will now head to the U.S to play four tournaments over the next five weeks, including two big " Masters 1000″ tournaments where all of the world's best will be. He plays in the U.S National Indoor Tennis Championships next week in Memphis, which, despite its name, is filled with international players. He is seeded second and fellow Croats Ivan Dodig and Ivo Karlović will also be playing. 
"Most of my game was working extremely well. My returns were really good and I had a read on almost all of his serves. I took my chances and defended well. Overall, I played a great match from beginning to the end. –Marin Čilić
_______________________________________________________________
Day 4: Croatia put up a great fight against the heavily favored Poles, but ultimately weren't able to pull off the upset, losing their Fed Cup playoff tie 1-2. Ana Konjuh picked up the most impressive win of her very young career, defeating a top 30 opponent in her first match against anyone in the top 100. There were many, many positives to take from the Fed Cup campaign, despite their failure to secure promotion. With so many young up-and-coming players, Croatia could have as many as 5-6 players in the top 100 by the time next February rolls around. They will likely not have to beat a team with the quality of Poland to advance next year.
 End of Konjuh's victory
Croatia gave Poland much more than a scare on Saturday, as they took the first match through Ana Konjuh's exceptional performance. After losing the first set 6-2, she quickly regrouped and took the second 6-3. The third set came down to the tiebreak, and she proved to be more composed, winning 8-6 to give Croatia the lead. Hard hitting Donna Vekić played very well in the next match, making #4 Agnieszka Radwanska work hard to beat the 16 year old. Aga won 6-3, 6-2. Captain Iva Majoli elected to go with doubles specialist Darija Jurak and Ana Konjuh for the decisive doubles match against the Radwanska sisters. They weren't able to cope with the talent and experience of the Poles, and fell 6-2, 6-4.
Expect to hear much more from Ana and Donna in the coming year, as well as Petra Martić and Ajla Tomljanović.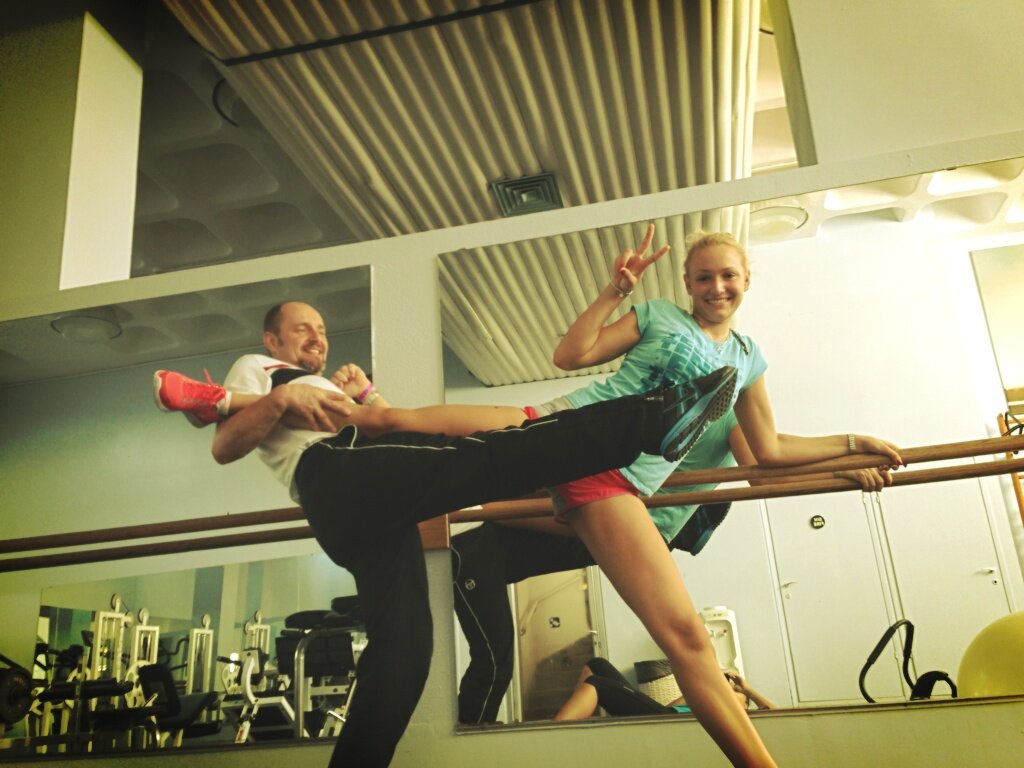 Goodbye from Donna Vekić for now
"Unfortunally lost to Agnieszka Radwanska 3-6 2-6. Even though I lost to such a good player, feeling so sad that I missed my chances. But …learning experience for me, great opportunity to play Aga. Next time…" –Donna Vekić via Facebook
In other tennis news, Marin Čilić came from behind to defeat #32 Mikhael Youzhny in the semifinals of the PZB Zagreb Indoors 4-6, 6-4, 6-3. He will play #29 Jurgen Melzer in the final as he looks to win his third Zagreb title in five attempts. Fellow Croatians Ivan Dodig and Mate Pavić will play in the doubles final tomorrow. 
________________________________________________________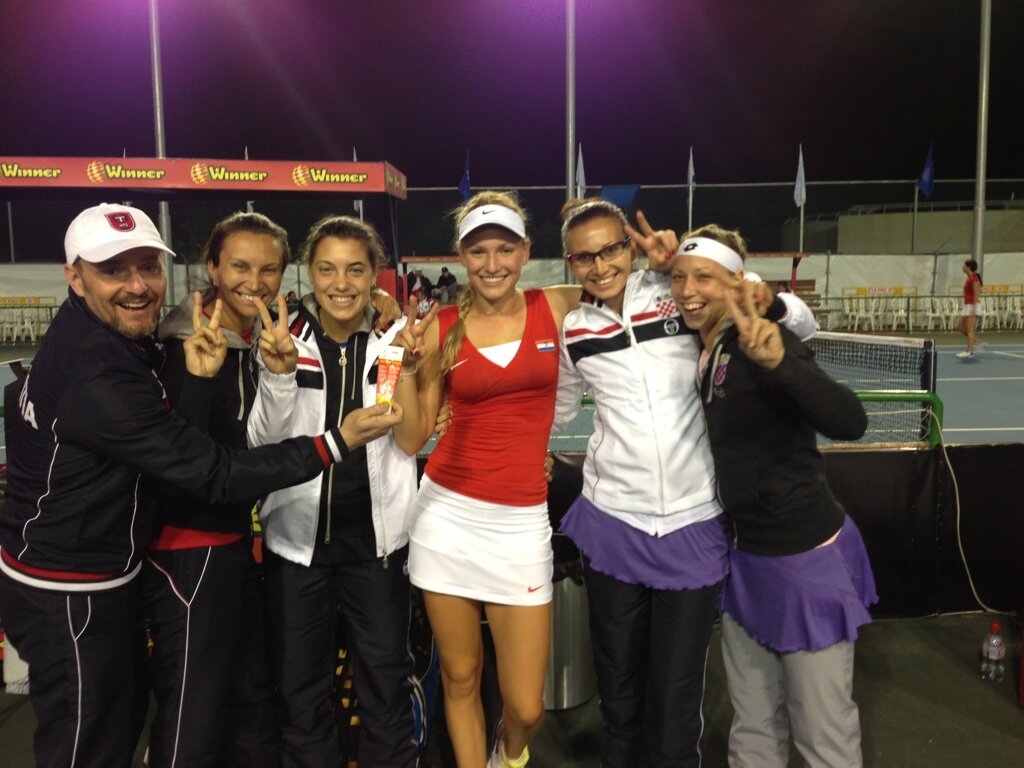 Day 3: Croatia won their final match in Fed Cup group play to finish on the top of the group with a 3-0 record. They won all three matches against Belarus to finish with a 8-1 record, with the only loss coming from Teresa Mrdeža in the first match on Wednesday. Ana Konjuh won her match in three sets, and Donna Vekić followed with another easy two set win from her to seal the tie. Mrdeža and Darija Jurak also won the meaningless doubles match.
Ana Konjuh was given some trouble from #369 Aliaksandra Sasnovich, who took the first set in a tiebreak. Ana recovered and won the next two sets 6-4, 6-2. Donna Vekić took the court next looking to put her match record as well as Croatia's at 3-0. She came out strong against #243 Ilona Kremen and won 6-1, 7-6(2). The doubles match was won by Croatia 7-6(2), 6-3, with the tie already having been decided in singles.
Croatia's big match tomorrow will be against the best team (rank-wise) in Group 1, Poland. The main Polish players are the Radwanska twins, who will more than likely play both singles and doubles, if the tie lies at 1-1. Agnieszka is ranked 4th in the world, and will play Vekić. Urszula is ranked 29th and will play Konjuh. Urszula lost today to #181 Julia Glushko. The sister's struggled to play together in doubles today, as Poland were nearly shocked by Israel. "Aga" was visibly unhappy with her younger sister many times throughout the match and the atmosphere in their press conference was awkward to say the least.
 Tensions between the Radwanska sisters?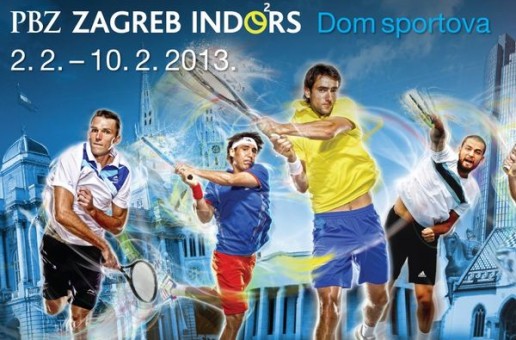 In other tennis news, Marin Čilić easily advanced to the semifinals of the PZB Zagreb Indoors tournament. He beat the Slovenian Blaz Kavčić 6-3, 7-6(5). Ivan Dodig was defeated in his quarterfinal match by Mikhael Youzhny 6-3, 6-2. Youzhny is the reigning champion and is ranked 30th in the world. Marin will play against Youzhny in the semifinals tomorrow. 
_________________________________________________________________
Day 2: Croatian captain Iva Majoli chose to play the two teenagers in singles Thursday against Georgia, and they did not disappoint, winning both matches very easily. Ana Konjuh put up two "bagels" (6-0, 6-0) and Donna Vekić almost kept it perfect, winning 6-0, 6-1. Croatia also won the meaningless doubles match, with Teresa Mrdeža and Darija Jurak winning 6-3, 6-2. The singles matches took a combined one hour and twenty-five minutes, giving the youngsters a bit of a break in what can be a grueling four-day tournament.
Croatia will play joint group leaders Belarus tomorrow, with the winner taking the group and advancing to play the winner of Group C (likely Poland). Belarus's top player, Ilona Kremen, is ranked 243rd in the world. Croatia will be heavily favored to win tomorrow and move to 3-0 but the real challenge lies in their looming clash against Austria. 
"Ana and Donna are great girls, both sweethearts and I'm just really happy to be working with such a good group of young players, starting with Petra Martić who is still very young. Unfortunately she's had some injuries and been unlucky, but I think her talent is really big and from my perspective she could be top 10, she could have already been, but just so unlucky.
I'm so happy to have two such talented young girls coming from my country, finally we have some women again because for a while there was nothing – it moved to Serbia with (Jelena) Janković and (Ana) Ivanović – and now it's coming back to Croatia. It's a great time to be captain and I'm really looking forward to the next couple of years because I think that we can do really great things." – Captain Iva Majoli
In other tennis news, Marin Čilić and Ivan Dodig both advanced to the quarterfinals of the PZB Zagreb Indoors tournament. Dodig beat fellow Croat Ivo Karlović in three sets, and Marin beat Grega Zemlja 6-2, 6-3. Ivan will play the #3 seed Mikhail Youzhny tomorrow. Marin will play Blaz Kavčić. 
____________________________________________________________________
Day 1: It was a winning start in Fed Cup group play for Croatia, as they won against their toughest opponents in Group A, Austria. They overcame a Teresa Mrdeza loss in the first match to win through a Donna Vekić victory in singles and the success of doubles pair Ana Konjuh and Darija Jurak, who won the deciding third match. They will take on Georgia tomorrow, who lost 3-0 to Belarus in their match today. Georgia's top singles player is ranked #300.
 Croatia's introduction at the Fed Cup dinner
Teresa Mrdeža went down in straight sets to Patricia Mayr-Achleitner, losing 6-3,7-5. Mrdeža was only able to hold serve in five out of her ten service games. The loss of Petra Martić may prove to be very costly for Croatia with Mrdeža being a major step down (about 120 spots in the world rankings). Following the first loss, 16 year old Donna Vekić took the court to face Austria's #1 player, Yvonne Meusburger. It was a stroll in the park for Donna as she won the first four games of the first set, and the first five of the second, winning 6-1, 6-3. Ana Konjuh and Darija Jurak also won in two sets, defeating the Austrian singles players, who attempted to play two matches in the first day, but their efforts proved to be in vain. The Croats won 6-4, 6-4, as neither side were able to hold their serves well, with Croatia breaking six times, and Austria four.
IDEMOOOOOOOOOOOOO

— Donna Vekic (@DonnaVekic) February 6, 2013 (Tweeted less than 5 minutes after her win)