Germany
Mladen Petrić made sure that Ivica Olić's presence would not be missed as Hamburg took on German giants, Bayern Munich, as the BundesLiga resumed after a lengthy winter break. Olić has been suspended for the first two BundesLiga matches of 2009.
Petrić played the full 90 minutes and scored a nice rebound header just before the halftime whistle blew. It was enough for a 1-0 Hamburg victory as the rest of the game was a grind for both teams. This is a fantastic start for Petrić and his 2009 campaign.
In other news around Germany, Ivan Rakitić returned to the starting lineup in Schalke's 1-0 loss to Hannover. Ivan played the entire game and looks to be fit. This is fantastic news as Ivan can give the national squad a solid midfield option off the bench as well as raise his stock before the summer transfer window arrives and he is able to move to a much larger club like Juventus.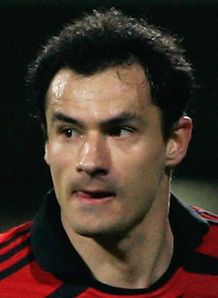 MARKO BABIĆ
Josip Šimunić also played his usual full 90 for Hertha Berlin in their 2-1 win over Eintracht Frankfurt. I'm happy to say that Josip was 'yellow card free.' Marko Babić also made his debut for Hertha as a 76′ substitute. No goals in his first game.
DFB Pokal (German Cup)
Ivica Olić decided to make the best of his situation as he won't able to play a competitive match for another two weeks. The suspension is due to the 'eye gouging incident' he had with Hoffenheim's Eduardo in a friendly a few weeks ago.
So all Olić did in his 3rd Round DFB Pokal match against 1860 Munich was score a hat trick in a 3-1 Hamburg victory. Mladen Petrić played 77 minutes before being subbed out.
Sure none of Olić's goals were spectacular, but at least he's been in 'the right place at the right time' for quite a few months now- and that's more than we can say for Olić in the past three years.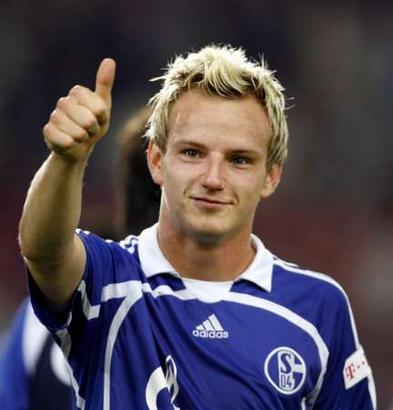 Ivan Rakitić also joined in on the German Cup fun as he scored a goal and had an assist against FC Carl Zeiss Jena in a 4-1 Schalke victory. Rakitić scored on a funny free kick which seemed to freeze the goalie. Good to see him on the score sheet though.
Rakitić scores 6:10 into the clip.
Netherlands
Danijel Pranjić scored the lone goal of the game off a free kick in an important victory over Ajax. Any decent goalie would have stopped that ball but we have to give Pranjić credit nonetheless.
Pranjić most definitely will be sold to a big European club in the summer. I just hope he can stay healthy and not break his back in the mean time because he is currently carrying this Heerenveen side. With a team-leading 14 goals, Pranjić is almost scoring a goal a game every time he steps onto that field.
England
The week started off fantastic for Modrić & Co. at White Heart Lane. With a 3-1 win over Stoke City on Tuesday, the Spurs temporarily moved out of relegation danger. Modrić had the game of his life and was voted on the EPL 'Squad of the Week' by Goal.com. He did all this without even scoring a goal. Modrić ran the midfield beautifully and opened up the Stoke defense. Luka assisted on Tottenham's third and final goal.
Vedran Ćorluka played his usual 90 with ease. He's been on top of things defensively and looks to end the season strong alongside Modrić. Hopefully Tottenham can finish the season on the frontside of the table.
Later in the week, fortunes turned for Tottenham as things couldn't have gone worse. The Spurs went down two goals early, Modrić was getting banged around pretty good by the Bolton defense and had to be subbed out at haftime and even Vedran Ćorluka couldn't finish the entire match.
Although Modrić's replacement, Darren Bent, scored two quick goals and tied up the game late; Bolton ultimately took full points with a 87′ goal.
Ćorluka surprisingly was subbed out in the 67′ for another defensive player. No injury was reported so he should be ready to go again this week.
Niko Kranjčar is still out for Portsmouth and his return is unknown. I would say he is another 2-3 weeks away. Niko is not even expected to play in the Romania friendly but I believe Bilić just wants to keep him close to the first team and see how he's coming along with the injury.
Eduardo- soon! You can hold your breath or even count the days before you see him back in action. That's how soon his return will be.
Italy
Ivan Jurić played two complete games for Genoa this week and seems to be in incredible form. Genoa drew against AC Milan at San Siro earlier in the week and beat Palermo 1-0 at home on Saturday. Jurić received a yellow card in both games. This Genoa side look like the real deal as they remain in the fourth spot in Serie A.
Seeing Jurić mend with the team in Bucharest should be a treat. I know many of you have not yet seen him play and question his age; but he has a lot to bring to the table.
Spain
Mate Bilić has lost his scoring touch for Sporting Gijon and has not looked good the past six games. In Bilić's most recent game against Sevilla, he had a penalty kick blocked which was followed by a 63′ substitution.
It's looking like his own club team is losing faith in him. At this point he wouldn't cut it for Croatia. Good eye Bilić. (Slaven, that is.)
~Ante Kvartuč, reporting from the World Wide Web~