ENGLAND
Photo: PA 
Nikica Jelavić returned from a knee knock he suffered two weeks ago to score twice on Saturday vs. Southampton, earning Everton a 3-1 win. The Toffees went down early to Southampton but Jelavić was ready to carry his team to victory. In the 25′, Jelavić got caught up with a Southampton defender as the ball came over the top, and the Croatian striker got just enough on it to stop the ball for teammate Leon Osman to fire away from point-blank range. Moments later Jela put the game away for Everton.
Within six minutes, Jelavić scored twice to close the first half 3-1 in Everton's favor. He was set free down the left flank in the 32′ and picked out the far tight corner from a very tight angle to give his side the lead. A few minutes later, Jelavić found a cross on the back post, but this time headed in from a tight angle. He now has three goals this season from five Premiership games played as Everton sit in second spot, with 13 points from their first six matches.

Jelavić slides in the ball to the far post for goal

Jelavić header from the back post
Photo: Reuters 
Mladen Petrić returned from injury and received the start for Fulham Saturday afternoon vs. mighty Manchester City. In the 10′ of play, Petrić stepped up to the penalty spot and ripped the shot into the side-netting, making City keeper Joe Hart go the wrong the way. It was Petrić's only shot on goal during the match, but was not enough to get the result as Sergio Aguero leveled things in the 43′ before Edin Dzeko found the winner for Man City three minutes from time. Petrić was subbed off in the 66′. Fulham have a respectable nine points from their first six games of the season.

Petrić makes Joe Hart go the wrong way (1:10)
UKRAINE
Photo: Shakhtar 
It looked as if Shakhtar Donetsk would drop their first points of the season Friday night vs. Dnipro. But captain Darijo Srna wouldn't let it be. After Dnipro went up early with a 9′ Rotan goal, Shakhtar equalized 10 minutes later through H. Mkhitaryan. But no more goals would come, until Srna's wunder-volley in the 80th. Willian's corner kick was intentionally put into Srna's direction outside the 18-yard box, who crisply volleyed the ball into the ground and past Dnipro keeper Laštůvka. The 2-1 win makes it 10 in a row for Shakhtar to start the season. They travel to Torino, Italy on Tuesday in a Champions League battle with Juventus.
Eduardo was subbed into the match in the 82nd minute. Dnipro's Ivan Strinić played the full 90 minutes while striker Nikola Kalinić remained on the bench as an unused sub.
Srna wunder-volley to keep Shakhtar perfect in 2-1 win
Ognjen Vukojević and Niko Kranjčar both got the start for Dynamo Kiev in a hard fought 1-0 victory over Zorya on Friday. Vuki played the full 90 minutes while Kranjčar was subbed out in the 71st minute for Raffael, who scored the game's lone goal 10 minutes later. Dynamo remain six points behind leaders Shakhtar Donetsk in domestic play and welcome Croatian champions Dinamo Zagreb into town Wednesday for Champions League. 
Germany
Photo: Bundesliga
Mario Mandžukić celebrating goal
Super Mario Mandžukić continues to impress in the Bundesliga after scoring his league leading 6th goal of the season on Saturday in a 2-0 win in Bremen. The former Dinamo Zagreb striker came off the bench in the 58th minute of play for Claudio Pizarro and scored another "Ivica Olić-like goal" in the 82nd minute to keep Bayern Munich perfect from six Bundesliga games. Following a fast break, Xherdan Shaqiri found Mario open in the box with a nice cross and the 26-year-old would not disappoint from close range. Bayern dominated 66% of possession and bombed Bremen with 19 shots in the win.
Photo: Bundesliga
Ivica Olić blinks an opportunity at goal against Mainz 05 on Sunday
Ivica Olić missed a golden opportunity to score his second goal of the season as Wolfsburg suffered a disappointing 2-0 loss to Mainz on Sunday night. The former Dinamo Zagreb striker started and played the full 90 minutes in the loss, picking up a yellow card in the 51st minute of play. In the 70th minute of play, Ivica failed to keep a close range header down on his only opportunity at goal. The 33-year-old, Croatian international, has struggle to get anything going this season at Wolfsburg. 
 (3:22) Ivica Olić heads over the goal from close range
Srdjan Lakić rode the bench in the loss for Wolfsburg. Ivan Klasnić left of the roster sheet for Mainz.
Photo: Bundesliga
Ivo Iličević(right) in action against Hannover 96 on Saturday
A Artjoms Rudnevs goal in the 20th minute was all that separated Hamburg and Hannover of Saturday. Former Kaiserslautern star, Ivo Iličević, started but only played the first half for Hamburg. The German born midfielder picked up a silly yellow card and finished the game without a shot. No word on the reason for Ivo's early substitution.
PHOTO: Bundesliga
Milan Badelj(left) in action against Hannover 96 on Saturday
Former Dinamo Zagreb midfielder, Milan Badelj, also started for Hamburg and played the full 90 minutes in the shutout. Milan has played well the past few games and has secured the starting defensive midfielder position. Hamburg picked up seven points in their last three matches. 
Borussia Dortmund satisfied a crowd of 80,645 at Signal-Iduna-Park with a 5-0 romp of Borussia Mönchengladbach. Croatian international, Ivan Perišić, took the night off and rode the bench for the hosts in the win.  Dortmund moved up three spots on the Bundesliga table and find themselves in third place. Ivan should get some action against Man City on Wednesday. 
Photo: Bundesliga
A somber mood befell the Rhein-Neckar-Arena as 1899 Hoffenheim players and fans got together before the game against FC Augsburg, united in their thoughts for Boris Vukčević, who suffered life-threatening injuries in a road crash on Friday afternoon.
PORTUGAL
Danijel Pranjić has retired from international football following the inclusion of Sammir, and disclusion of Danijel, in Croatia's latest squad. Pranjić's anger was directed at Stimac, and not the Dinamo midfielder. Pranjić has 45 senior caps, making his debut in 2004. 
He was also left out of the squad for Lisbon for unknown reasons on Saturday as they drew 2-2. 
"It was a tough decision to make but being ignored to fit in Sammir at my expense is more than I can take because I was also cold-shouldered for the opening two games with Macedonia and Belgium," Pranjić told Croatian media on Friday.
"I felt strange because Stimać told me ahead of those two games I was going to play a part in both and after I was left out, I said to myself I would walk out if Sammir was called up.
"I have nothing personal against the lad, I know he is a good player but I can't accept this way of doing things."
SPAIN
Ivan Rakitić started for Sevilla as they nearly became one of few teams to defeat both Real and Barca in the same season, only to fluff it up in the final ten minutes and fail to even salvage a draw. Rakitić put a shot on goal early on, and was heavily involved in the Sevilla attack as they flew out to a 2-1 lead, despite 29% possesion. Following Gary Medel's seemingly undeserved sending-off, Rakitić was sacrificed for Kondogbia and Sevilla proceeded to let in two late goals and lose the match 3-2. Despite the loss, Sevilla still sit in 4th in La Liga.
 Fabregas "earns" Barcelona a man advantage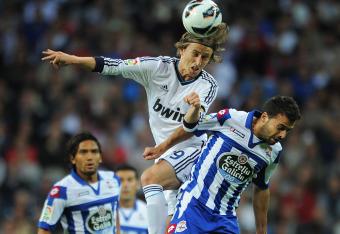 Luka Modrić started for Real Madrid in their routine 5-1 victory over Deportivo La Coruna. Luka had a fairly quiet game pulling the strings, and picked up an assist on Real's second goal with a lovely through ball to Angel di Maria. Luka picked up a yellow card in the 50th minute for intercepting a Deportivo cross with his arm and was subbed on in the 58th minute for Xabi Alonso. Modrić seems to be fitting in quite well under Jose Mourinho and will continue to see lots of playing time in the stacked Real midfield. The win leaves Madrid in 6th, 8 points off the pace of so-far perfect Barcelona. They play at Ajax Arena in Amsterdam on Wednesday in the Champions League before El Clasico at the Nou Camp next Sunday.
 Assist at 0:20
RUSSIA
Bilić not impressed with the refs 
Vedran Ćorluka and Dario Krešić both went the distance for Lokomotiv Moscow in their impressive 1-1 draw at Zenit. Neither Croat was at fault for Zenit's lone goal, as Criscito was not closed down quickly enough. Vedran picked up a yellow card in the 89th minute, his 3rd in 4 matches. He was should have been booked for a clumsy challenge in the 31st minute on Hulk, but the ref made a massive error, giving Roman Shishkin the yellow, his second of the match.  Loko sit in 3rd, just 3 points out of first in the Russian Premier League.
 Goal at 0:50, Ćorluka foul at 3:05
Stipe Pletikosa was in goal as 10 men Rostov were demolished in a 4-0 defeat to Rubin Kazan.  Stipe deflected the first goal off the crossbar and nearly kept it out, but the linesman made the correct call, as it had just crossed the goal line. Pleti was completely left out to dry by his defense as he face wave after wave of Kazan attacks.
Gordon Schildenfeld was not in Dinamo Moscow's squad for the second week in a row as they won 2-0 against Dinamo Moscow, their second consecutive victory. He has been called up for Croatia so chances are he's been dropped due to performance, and not injury.
Mordovia Saransk (Tomislav Dujmović) plays Alania Vladikavkaz on Monday.
France
 PHOTO: olweb.fr
Dejan Lovren(left) challenges Cheik Diabate of Girondins Bordeaux during their French Ligue 1 soccer match at the Gerland stadium in Lyon 
In a battle of unbeaten teams, Bordeaux stunned Lyon 2-0 in front of 39,000 disappointed fans at Stade de Gerland in Lyon. Former Dinamo Zagreb defender, Dejan Lovren, started and played the full 90 minutes in the loss.  The 23-year-old, Croatian international did not have one of his memorable performances and was at fault for both Bordeaux goals. The first goal was a deflection off Benoît Trémoulinas' shot in the 65th minute of play. Dejan tried to block Benoît' shot but instead just got a toe on it to fool his keeper and send the ball into the back of the net.
Less than 10 minutes from the final whistle, Cheick Diabate doubled the score. Lovren failed to clear a lose ball and carelessly heads the ball to an open Diabate who heads in the second goal. Lyon dominated possession 65% – 35% and out-shot Bordeaux 23-5 but couldn't find the back of the net. Lovren was not 100% at fault for either goal, but he could have done better on both plays.
Italy
PHOTO: leggo.it
Former Hajduk Split captain, Ante Vukušić, is still waiting to find the back of the net at Pescara after four matches.  The 21-year-old Croatian international started and played 67 minutes in a 2-1 win over Cagliari. Ante had two mediocre shots on goal that didn't trouble Cagliari keeper Michael Agazzi. Pescara are unbeaten in three games after starting off the season with three losses.
Next Matches:
Tuesday, 10/2
Bayern München at BATE(Champions League), Shakhtar Donetsk at Juventus(Champions League)
Wednesday, 10/3
Borussia Dortmund at Manchester City(Champions League), Real Madrid at Ajax(Champions League), Dinamo Zagreb at Dynamo Kyiv(Champions League)
Thursday, 10/4
Olympique Lyonnais at Ironi Kiryat(Europa League), Dnipro at AIK(Europa League), Rostov at Terek Grozny
Friday, 10/5
Sevilla at Celta de Vigo, Kuban' Krasnodar at Lokomotiv Moskva
Saturday, 10/6
Everton at Wigan Athletic, Hoffenheim at Bayern München, Hamburger SV at Greuther Fürth, Fortuna Düsseldorf at Mainz 05, Wolfsburg at Schalke 04, Anzhi Makhachkala at Dinamo Moskva
Sunday, 10/7
Fulham at Southampton, Borussia Dortmund at Hannover 96, Lazio at Pescara, Olympique Lyonnais at Lorient, Real Madrid at Barcelona, Shakhtar Donetsk at Metalist, Dynamo Kyiv at Dnipro
~Ante Kvartuč and Denis Svirčić reporting from sunny Southern California, Zach Gilfix reporting from Minneapolis, MN