SPAIN
Luka Modrić shined bright for Real Madrid in their 1-0 win over Espanyol on Sunday. Modrić assisted on the lone goal, as Pepe headed home his free kick, and was a big source of creativity and distribution for Madrid. He created three chances, had four successful dribbles and picked up a yellow card in the 14th minute. With the Atletico-Barcelona 0-0 deadlock on Saturday, Real now trail both clubs by three points for the La Liga lead.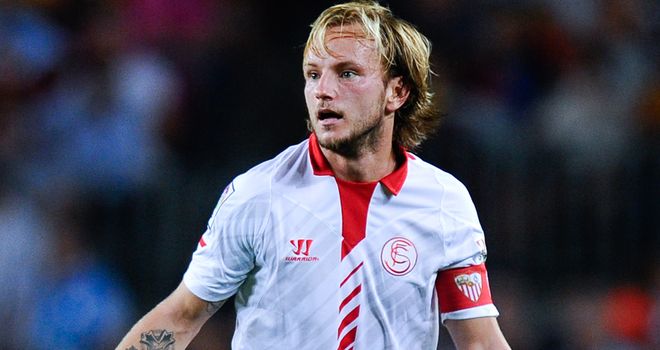 Ivan Rakitić (above) played the full match for Sevilla on Saturday as both Sevilla and Elche scored goals in the last ten minutes of the 1-1 draw. He created two chances and made two interceptions and two tackles in a fairly quiet match. Sevilla sit 7th in La Liga, one point out of European competition and six out of a Champions League spot. Rakitić has been linked to many top clubs in Europe in the January window, including Manchester United and Chelsea, but has maintained his intent to finish the season at Sevilla. 
Rakitić Season Highlights
FRANCE
AS Monaco were held to a disappointing 1-1 draw on Friday against relegation contenders Montpellier as Danijel Subašić started between the pipes for Monaco. Subašić made four saves, including a 68th minute penalty, but the rebound was scored by M'baye Niang. Subašić also made a great save with his feet to keep Montpellier from scoring on a 1v1 in the first half. Monaco remain second in Ligue 1, but now sit five points behind PSG. 
 Save: 1:10, Penalty: 2:25
ENGLAND
Niko Kranjčar got the start and played 85 minutes for QPR on Saturday in a 3-1 win over Ipswich Town. After a scoreless first half, Kranjčar opened up the scoring in the 52nd minute as he trotted around the box with the ball before shooting to the far, right side of the goal. The ball skipped across the grass and eluded the Ipswich keeper making it just inside the post. It was Kranjčar's only shot on goal. With the win, QPR remain one point behind Burnley for automatic promotion into the Premiership next season.
Kranjčar goal 0:30
Dejan Lovren played the full 90 minutes for Southampton on Saturday in a 1-0 shutout win over West Brom. Lovren picked up a yellow card in the 27th minute for a foul on Shane Long but was rated highly for his "lively" play on the back line. West Brom pushed late for an equalizer but the entire Saints defense was able to keep the clean sheet. The win keeps Southampton in ninth place with 30 points through 21 matches.
Everton sold Croatian striker Nikica Jelavić to Hull City earlier in the week for a reported £9 million. Jelavić was not a part of the Hull City squad in their 2-0 defeat to Chelsea on Saturday but he can make his debut with the Tigers Saturday vs. Norwich City. He scored 16 goals in 59 matches for Everton since coming over in the winter transfer window in 2012 from Rangers. 
Italy
PHOTO: AP/Alfredo Falcone

Šime Vrsaljko and Genoa had a nightmare of a day at the office on Sunday as Roma scored four unanswered goals in a 27 minute span to drop Genoa to 10th place on the Serie A table. Šime played 69 minutes on the right wing and wasn't at fault for either of the four goals. Tin Jedvaj came on for Roma in the 83rd minute of play with the match already decided. Genoa finished the match without a shot as Roma dominated with 66% possession. 
Alessandro Florenzi put Šime Vrsaljko on a poster with a beautiful bicycle kick
Josip Radošević made a rare appearance for Napoli on Sunday. The former Hajduk Split midfielder came on in the 82nd minute in a 3-0 win over Hellas Verona. Josip came on with the game already decided. Marko Livaja looked on from the bench as Atalanta beat Catania 2-1 on Sunday. Ante Rebić failed to come off the bench for Fiorentina in a 0-0 draw against Torino.

Ivan Kelava, Igor Bubnjić, and Frano Mlinar will most likely all look on from the bench as Udinese take on Sampdoria on Monday. While, Manuel Pamić and Chievo will be looking to upset Mateo Kovačić and Inter Milan.

Next Matches:
Saturday, 1/18
Southampton at Sunderland, Livorno at Roma, Real Madrid at Real Betis, Bayern München at Salzburg(friendly), Basel at Hamburger SV(friendly)
Sunday, 1/19
Lazio at Udinese, Cagliari at Atalanta, Internazionale at Genoa, Napoli at Bologna, Sevilla at Atlético Madrid, Monaco at Toulouse
~Ante Kvartuč and Denis Svirčić reporting from sunny Southern California, Zach Gilfix reporting from Minneapolis, MN