ENGLAND
Photo: Southampton FC
Dejan Lovren got the start for Southampton on Saturday and played 88 minutes before being subbed out and stretchered off with a leg injury. But well before that, with the game 1-0 in Southampton's favor in the 31st minute, Lovren volleyed home a corner kick right inside the left post from the middle of the box. He had a Sunderland defender all over him, but just like the goal he scored at Anfield earlier in the season, still managed to power through. The goal made it 2-0 Southampton with Lovren showing what he can do technically off set pieces in the air. But Saints goalie Artur Boruc would allow a soft goal in the 71st minute which would be the deciding equalizer in the 2-2 draw.
Lovren was taken off the field late in the game and sent to the hospital for an injury he picked up during a slide tackle. It appears an air cast was put around his right leg and the severity of the injury is unknown. However this is what Lovren posted on his Facebook later in the day: "Thanks to all for best wishes and support messages. The leg is ok, I'll be back soon on the pitch." It's good to hear that it's not as serious as it looks, especially with Brazil only five months away.
Lovren goal @ 2:25 
After coming over from Everton in a winter transfer, Nikica Jelavić made his Hull City debut Saturday at Norwich City and nearly had a dream start. Inside two minutes, Jelavić received a pass and fired away only to have the ball ricochet off the outside of the post. It was Jelavić's only action, besides a near assist, as Hull City did not manage one shot on goal in the 1-0 loss. He played the full match but will have plenty of opportunities to score goals for a revamped Hull City which also just picked up striker Shane Long from West Brom. Can Jelavić finish the season strong to make a bid as Croatian starting striker versus Brazil?
Niko Kranjčar played the full 90 minutes for QPR on Saturday in a 2-1 win over Huddersfield Town. Kranjčar did not have a shot during the match, but with the win, QPR move up to second place in the English Championship, which would guarantee them automatic promotion to the Premiership next season.
SPAIN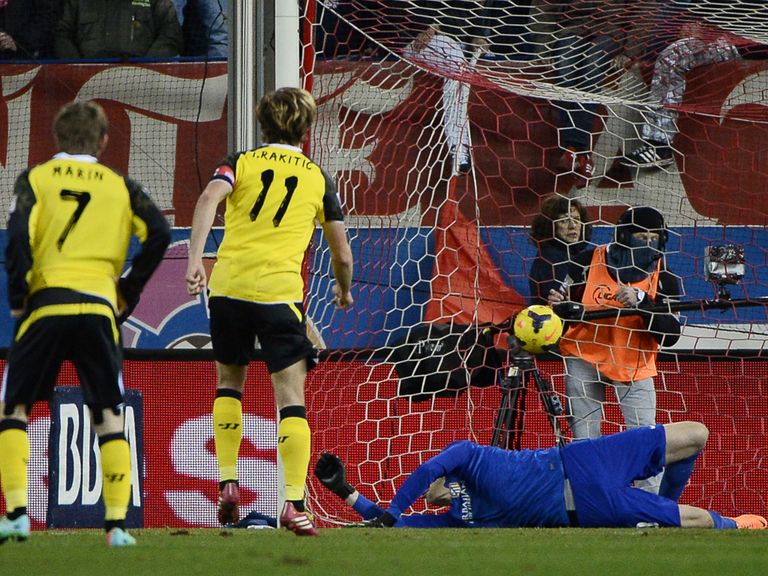 Ivan Rakitić converted a 73rd minute penalty to help Sevilla hold joint league leaders Atletico Madrid to a 1-1 draw on Sunday. Aside from the goal, it was an otherwise quiet match for Rakitić, as Sevilla spent much of the game out of possession, waiting to counter. Rakitić now leads Sevilla with nine goals this season, as the team remains seventh in La Liga.
Raktić penalty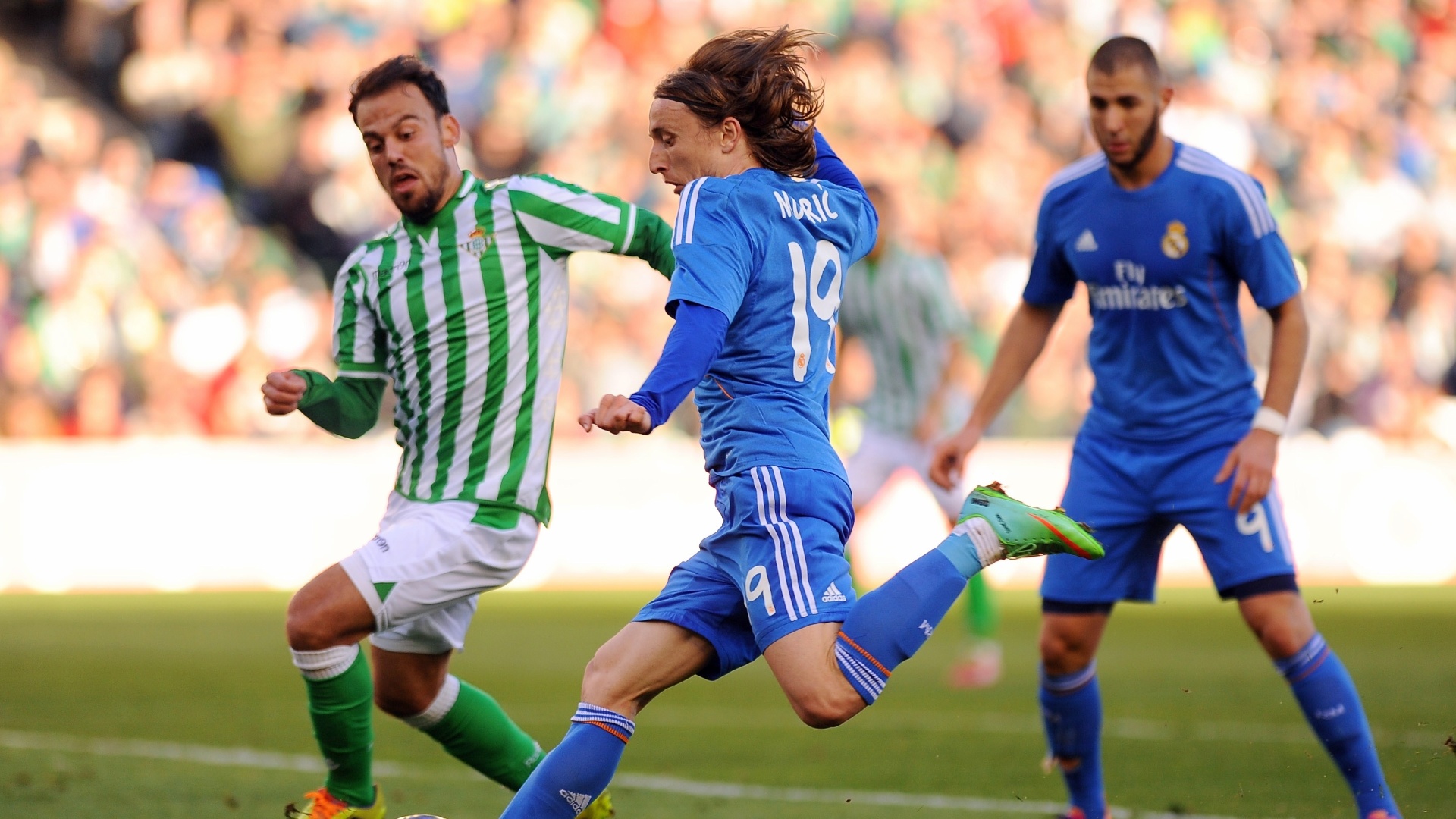 Luka Modrić earned an assist on Saturday in Real Madrid's convincing 5-0 victory over Real Betis. Modrić pounced on a loose ball just before the half, then took three defenders with him into the box before laying the ball off to Karim Benzema, who finished calmly. Luka created one other chance, completed 78 passes and five tackles while drawing four fouls. With both Atletico and Barcelona involved in draws over the weekend, Real were able to close the gap on the leaders and now sit just one point behind the co-leaders.
 Modrić assist @ 2:45
FRANCE
Danijel Subašić earned another clean sheet for AS Monaco on Sunday in their 2-0 win over Toulouse. Subašić made four saves, including a couple big ones with the score at o-0 in the first halfa and was ultimately lucky not to concede the first goal after Toulouse had a shocking miss off of a rebound. The win leaves Monaco second in Ligue 1, five points off leaders PSG. 
 Subašić saves @ 0:30, 1:30
Italy
PHOTO: AP/Tano Pecoraro

Inter Milan extend their winless streak to three games after falling away to Genoa 1-0. Mateo Kovačić came off in the bench in the 20th minute of play for the injured Ricardo Alvarez. The former Dinamo Zagreb prospect failed to impress as he finished the match without a shot in 70 minutes of action. Inter Milan are winless in 2014 and have only scored one goal in the new year. Napoli hold an 11 point lead for the final Champions League spot. 
PHOTO: AP/Tano Pecoraro
Šime Vrsaljko started and played the full 90 minutes for Genoa on the right wing. The former Dinamo Zagreb star played well and picked up a yellow card in the 58th minute of play. Vrsaljko's name has been floating around the rumor mill for some time now, however, Genoa doesn't seem interested in selling unless the price is right.

Marko Livaja looked on from the bench as Atalanta jumped three spots on the Serie A table with a 1-0 win over Cagliari. Josip Radošević watched from the sideline as Napoli gave up a 91st minute goal to tie 2-2 in Bologna. Tin Jedvaj looked on from the bench as Roma put three unanswered past Livorno on Saturday. Chievo extend their winless streak to 6 games as they fall 2-1 against Parma with Manuel Pamić looing on from the sideline.

Ivan Kelava, Igor Bubnjić and Udinese gave up two late goals to lose 3-2 at home to Lazio. Ante Rebić remained on the bench in Fiorentina's 3-0 win over Catania Sunday. 

Next Matches:
Tuesday, 1/21
Juventus at Roma(Coppa Italia), Real Madrid at Espanyol(Copa del Rey)
Wednesday, 1/22
Udinese at Milan(Coppa Italia), Monaco at Monts Or Azergues(Coupe de France)
Friday, 1/24
Bayern München at Borussia M'gla
Saturday, 1/25
Hull City at Southend United(FA Cup), Yeovil Town at Southampton(FA Cup), Hannover 96 at Wolfsburg, Chievo at Napoli, Granada at Real Madrid, Levante at Sevilla
Sunday, 1/26
Schalke 04 at Hamburger SV, Roma at Hellas Verona, Genoa at Fiorentina, Catania at Inter, Atalanta at Torino, Udinese at Parma, Marseille at Monaco
~Ante Kvartuč and Denis Svirčić reporting from sunny Southern California, Zach Gilfix reporting from Minneapolis, MN