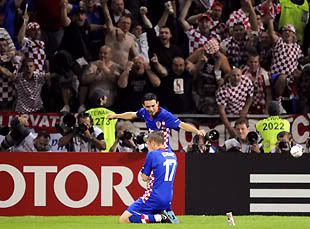 How well is Croatia running right now? Even their backup team is winning games at Euro 2008. But let's not get ahead of ourselves. Poland was BAD! I was actually worried about the Poland encounter and thought it would decide the group B runner-up. Not the case. Poland played like they had already been eliminated from the tournament. Our guys were playing for pride and possible spots on the team for later in the tournament- especially Ivan Klasnić.
Klasnić probably had the most to prove as he would be getting his first shot at action in the tournament and could overtake Petrić's spot in the lineup since he hasn't been looking good at all. We must remember that Klasnić was out of soccer for almost a year as he had 2 kidney transplants. It showed when Klasnić scored the only goal of the game in the second half. He fell to the ground showing how emotional the moment was for him as teammates smothered him.
As happy as I was for Klasnić for his goal and hoping that he would play great in this game so he would get more P.T. in the tournament- I just don't think his efforts were good enough in today's game. Klasnić had too many golden opportunities at goal and just could not finish. I was pulling hard for him but he just couldn't put the ball in the back of the net. Petrić once again didn't play well and I see Bilić playing Olić and Rakitić in the same roles as they did versus Germany.
I was happy with the team's efforts today. Backup goalkeeper, Vedran Runje, made some nice saves. His only slip-up occurred when he came out for a clearing and ran over Dario Knežević, who injured his knee and was then subbed out minutes later for regular Vedran Ćorluka.
Dario Šimić, who earned his 99th career cap, played well in the back and turned down numerous Polish attacks. Ivan Rakitić played the entire game and was my man of the match as he controlled the midfield and put on a display of crosses which just couldn't be put away by Croatian strikers.
Niko Kranjčar and Nikola Kalinić came in as late game substitutions for Petrić and Klasnić.
Overall, I couldn't be happier with the team. We'll be fresh for the Turkey game this Friday as the team is in high spirits. Croatia can beat the Turks, where they would then play the winner of the Germany/Portugal game in the semifinal. Call me biased, but Croatia can make the Final.
NOTES: This is the first time ever that Croatia has won their group in a Euro/World Cup tournament and the first time we have claimed all 9 points in a 3-0 undefeated group campaign.