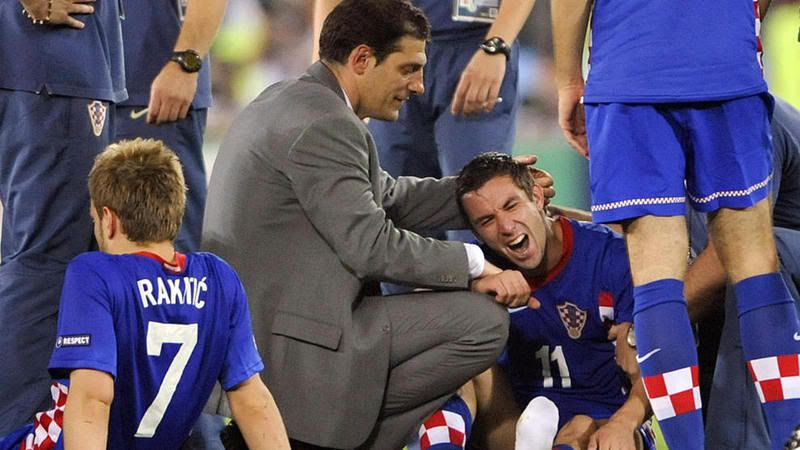 What can I tell you guys that you don't already know? Croatia lost in penalty kicks after the most bizarre of endings. The person I feel most for is Ivan Klasnić. After all he's been through with his two kidney transplants in the past 2 years and being told he would never play soccer again in his life- he does that today. Klasnić comes on as a late sub and in the 119th minute of extra time does the unthinkable. It looked as if both teams were completely fatigued and were playing for penalty kicks but a nice cross from Modrić met Klasnić's head and ended up in the back of the net when the Turkish keeper was caught in 'no man's land'. All with only 45 seconds left to play. And then the impossible happened- Turkey equalized and took HERO right back from Klasnić.
Now let's break this down and find out why Croatia lost that game. The long free kick that the Turkish keeper, Rustu, took which led to the final second goal was due to a Croatian offsides- not by 1 player but 2! There should be no reason any of our players are trying to attack and are caught offsides with only seconds to go. When that ball finally did land, I have no idea how it could find a Turk so fast where he could get off such a shot. Croatian defenders need to find the ball and kick it into the 36th row! This is fundamentals.
But let's not get ahead of ourselves. That game should have never even reached extra time. Croatia should have blown out Turkey by at least 2 goals. Mr. Ivica Olić should never start for Croatia ever again in my opinion. At this level to miss two absolute golden opportunities is unacceptable. How he shanked that beautiful pass from Modrić in the 1st half off the post boggles my mind. Olić once again blew a chance in the 2nd half when he let the ball bounce instead of bringing it down and having his choice of goal corner to put the ball into; but he butchered the play as usual. I have no faith in Olić; Klasnić should have had more playing time as he had 2 goals in the few minutes he got to play in the tournament. Petrić didn't even show up for Euro 2008 and Croatia plain and simply had striker problems. I won't start the 'Well, if we had Eduardo it would've been a different story" debate either. We had months to prepare and that's what Bilić came up with.
Like I said before, it's a team effort and no one single entity can be blamed. I don't want anyone blaming the referee either. I looked over the tape and the time of the goal was correct. Klasnić scored at the 118:42 mark, celebrated for exactly 1 minute and the Turks also made a substitution which is timed for 30 seconds. The Turkish goal came at 121:05 so it was all legit.
Croatia played scared and conservative today. They were very laid back and weren't hungry in the game. They played for possession and didn't attack like they did versus Germany. Olić was blundering, Rakitić wasn't on his game and Krančjar was non-existent. But I think we gained more from this game than you can know. It's fantastic experience for our young players and we once again got the world's attention.
That still didn't stop my heart from dropping when the game ended. 'This team' that I had followed so closely for the past 2 years had been eliminated by Cinderella. I was getting calls and texts from friends and family consoling me on what had happened. Like someone close had passed away and they were reminding how good they were in the past and that they did a great job and had a good life. The thing that finally picked me up was watching coach Slaven Bilić comfort Darijo Srna as he was engulfed with tears after the game. Like a father would to his son, you could see that there was true love on this team. Sure they all play professionally abroad and in leagues where only money and results matter, but this is more than just a soccer team; it's a family and it won't be the last we hear of them. World Cup 2010 qualifying begins this September and I'm sure England will be gunning for us.
The only thing we will have to wait for is to see if Niko Kovač returns as captain, as he's hinted towards international retirement, and to see if Dario Šimić makes a return for his record 100th CAP.
Stayed tuned to CroatianSoccerReport.com, as this was only the beginning.